Pécs is located in the southern part of Hungary, close to the Coratian border. It is the 5th largest city of the country. The closest airport is in Budapest which is a 2,5 hour drive from Pécs.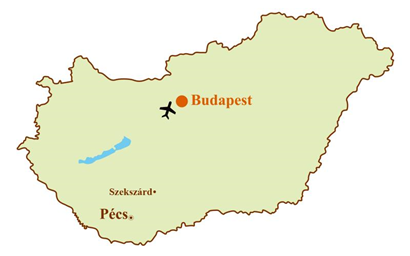 We advise you to travel to Budapest by flight. The most convenient way of travelling to Pécs from the airport is to order an airport shuttle. Here you can find the link to the websites of the most frequently used airport shuttle companies:
http://www.mecsektravel.hu/index.php/en/
The costs of a stay in Hungary have generally been considered low by European standards.
Here is a list of essentials to get an idea of prices:
   Food
a meal in the university canteen: HUF 1,800-2,500 ≈ USD 5-7
a meal in a restaurant: HUF 3,500-5,000  ≈ USD 9-14
a nice dinner with expensive drinks: HUF 5,000-7,000 ≈ USD 14-19.5
one litre of milk: HUF 700 ≈ USD 1.95
one bottle of beer: HUF 400 ≈ USD 1.12
one bottle of red table wine: HUF 1,000 ≈ USD 2.79
one litre of bottled water: HUF 200-250  ≈ USD 0.5
one loaf of bread: HUF 700 ≈ USD 1.95
   Entertainment
entrance fee for a party: HUF 0-2,000 ≈ USD 5.5
a cinema ticket: HUF 1800-2,500 ≈ USD 5.5-7
a theatre ticket: HUF 1,000-2,500 ≈ USD 2.5-7
gym pass per month: HUF 7,000-13,000 ≈ USD 19-36.5
swimming pool: The Pollack Swimming Pool is free for the students of the University, other swimming pools: HUF 800-2200 ≈ USD 2-6
   Transport
a monthly bus pass for students: HUF 3,900 ≈ USD 10.89
a single bus ticket (depending on wether you buy it online or in person): HUF 400-500 ≈ USD 1-1.5
a one-way train ticket to Budapest with a student discount: HUF 2,635 ≈ USD 7.36
a taxi ride within city limits: ≈ USD 5-10 (depending on the distance)
The Hungarian currency is called Forint (HUF, or locally Ft). Forint bills come in 20,000, 10,000, 5,000, 2,000, 1,000, 500 HUF notes, coins are 200, 100, 50, 20, 10, 5 HUF. Credit cards (Visa, Mastercard, American Express) are usually accepted in malls, city centre restaurants and shops. Always check doors for logos of the credit card companies that are accepted in a particular shop. ATMs (cash machines) are widely available.
You can check the current currency rates here: https://www.xe.com/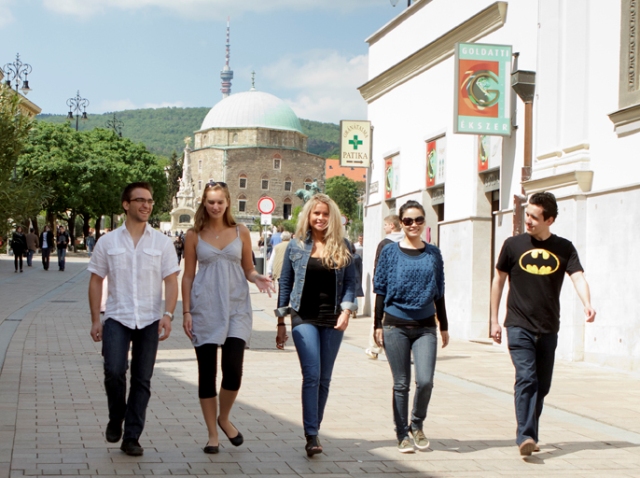 Data protection information sheet for the data processing pertaining to the Summer School Programs of the University of Pécs.