Compostela Debate Tournament
Study program
Social program
Fees and Payment
Accommodation
How to Apply
Brochures and videos
Contact Us
Apply Now
Date
November 02

-

November 05
Organizing unit
University of Pécs, International Centre and Compostela Group of Universities
Application deadline
October 17
Course fee
FREE for Compostela Group of Universities students
Target group
BA, MA and PhD students from CGU member universities
Language of instruction
English
Course Location
ONLINE - Microsoft Teams
If you want to develop your public speaking skills and learn how to formulate and structure your thoughts in a persuasive way, this is the course for you! Debate is a useful communication technique that can help you in your professional development and future career, regardless of your academic background. During this intensive and interactive four-day course, you will improve your critical thinking, argumentative, rhetorical, public speaking and debating skills.
Preliminary Program in Central European Time (CET)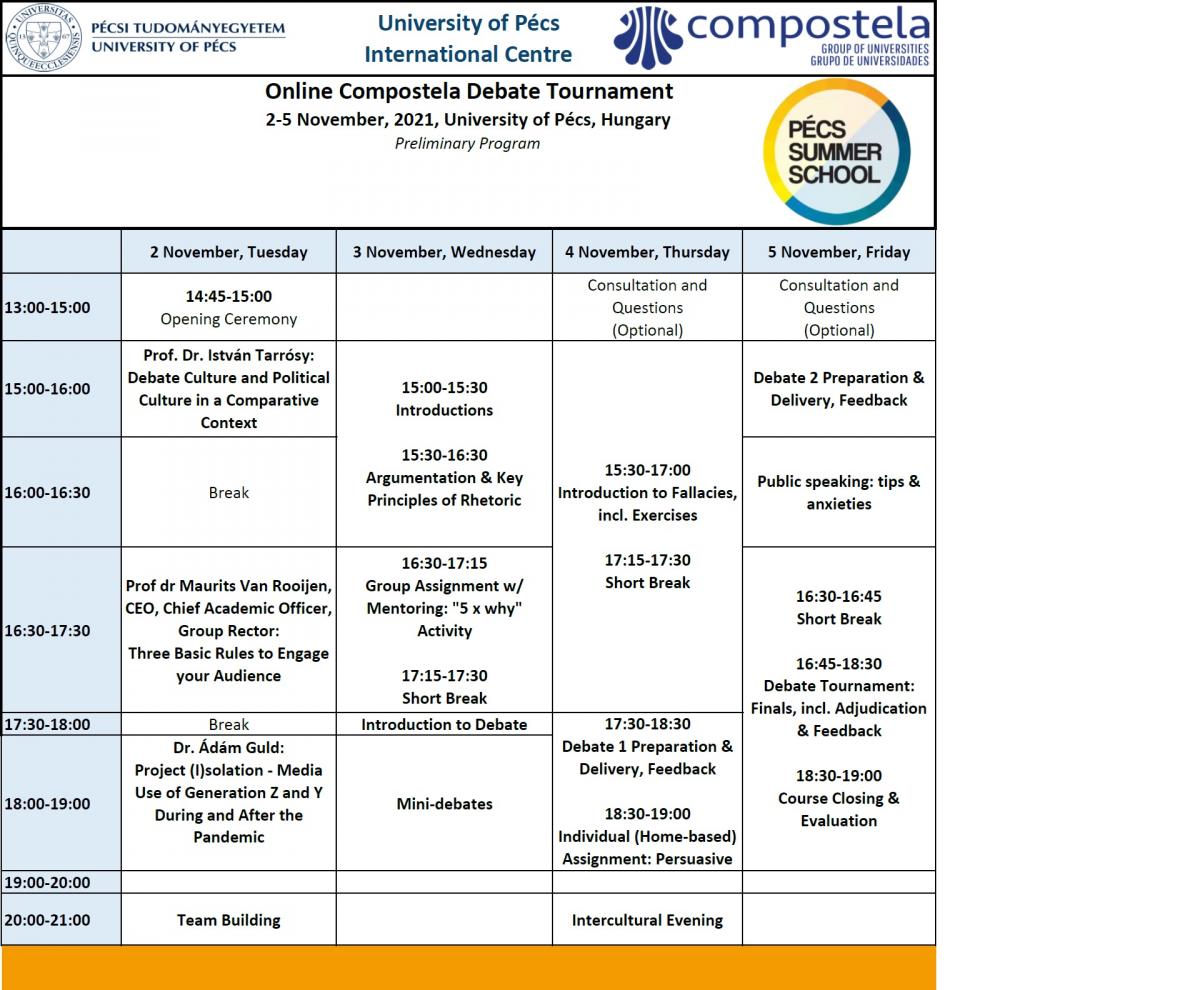 Fees and Payment
FREE for Compostela Group of Universities students
Accommodation
As this is an online program, we do not provide our participants with accommodation.
Contact Us
To visit the Office:
​The Summer School Office is located at 4 Vasvári Pál street, Rector's Cabinet, International Centre, office No 127-128.
Opening Hours:
Monday - Friday: 10.00am - 15:00pm
Telephone Enquiries:
Tel: +36-72-501-500/12418
Postal Address:
Rector's Cabinet, International Centre
University of Pécs,Vasvári Pál u. 4.
7622 Pécs, Hungary