The Cultural Heritage of Hungary - ONLINE summer program
Study program
Social program
Fees and Payment
Accommodation
How to Apply
Brochures and videos
Contact Us
Apply Now
Organizing unit
University of Pécs, International Centre
Application deadline
May 15
Target group
Undergraduate, graduate and PhD students
Language of instruction
English
Course Location
ONLINE (Microsoft Teams)
The objective of this online summer program is to introduce the Hungarian cultural heritage from many different perspectives. This online summer program will help you gain insight into Hungary's gastronomy, wine culture, history, religion and folk traditions, and political, economic and social challenges. Team building intercultural sessions will also be part of this program with professional lecturers and virtual guided tours in Pécs. During the program we will organize various online cultural events, such as an Intercultural Evening, a Quiz Night about the European Union, Game Night, Film Night and Team Building sessions.
Program: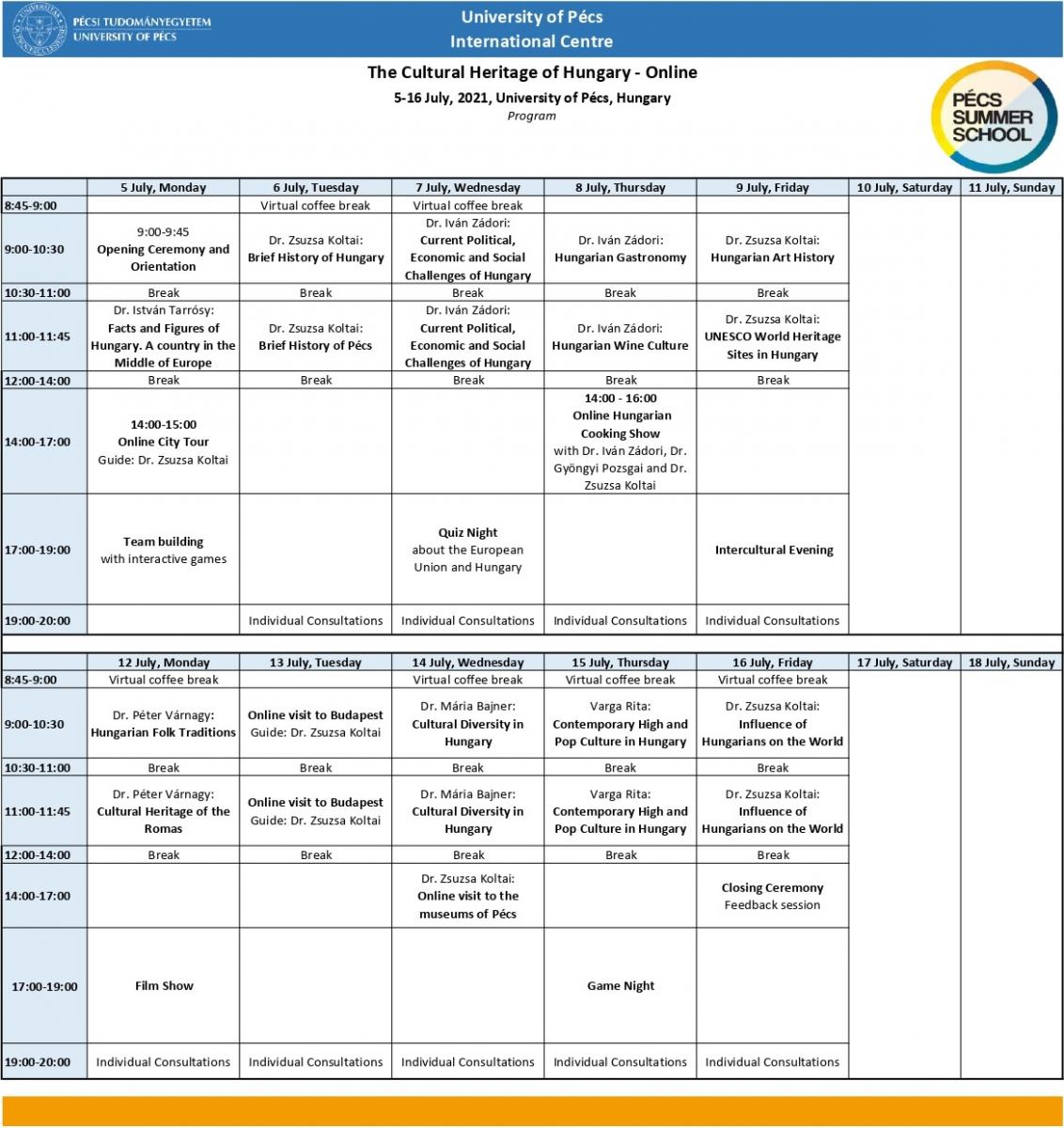 This is what our students had to say about the program:
"Being totally honest, I was a bit sceptical at first if the course held online can be as fun and entertaining as an on-site course would be, but the Pécs Summer School exceeded my expectations in every level. The content of the course was really well-made and even though held online, I got the feeling as I was actually in Pécs learning about the local food and exploring the museums and sites nearby. The enthusiasm and passion of the professors was evident and made me want to look for exchange opportunities in the University of Pécs! 
I cannot wait to be able to actually travel to Hungary and Pécs and see it in my own eyes after this rewarding Summer School experience :)"

Tikka Riina Maria, Finland, 2020

"While there is no virtual substitute for the flavors and aromas of Hungarian gastronomy, our class was treated to the warmth of an intimate cooking lesson. We were able to appreciate the arts and architecture of distant cities without boarding a tour bus. We listened together to Hungarian folk songs and we clapped our hands during the dances! Grateful for all of the brave professors and excellent student mentors who managed to express their enthusiasm, extend their hospitality and share their knowledge of Hungary's rich cultural heritage using an online platform during this unusual 2020 summer."

Jeffrey Alan Mar, USA, 2020

"I have never imagined myself going through the beautiful country of Hungary and getting to know its cultural heritage as I did during the summer school programme. Today, I feel pretty lucky for having done that and I can't wait for my second trip there. Everyone should try and visit this little European gem and pass by the charming city of Pècs in order to enjoy its exquisite cuisine and meet its lovely locals!" 

Anthony Rizk, Lebanon, 2019
"My Time in Pecs was the most brilliant and exhilarating experience. Learning about the Hungarian culture was a life changing time I will never forget." 

Mark West, United Kingdom, 2019

"The Cultural Heritage of Hungary was a beautiful experience, during which I learned much about the cultural traditions of Hungary. I enjoyed each course with all my colleagues, and every visits and trips that we made."

Tudor Urea, Romania, 2019

"Being part of this summer school has stimulated new perspectives, ideas, and thoughts within me, gave me a unique opportunity to look at the culture and heritage of Hungary closely, and created a long-lasting impact, which eventually made me enriched. I can't express through my words how privileged I am."

Sinharay Mridutpal, India, 2020
Fees and Payment
The application deadline for this program has passed.
Program fee: 300 EUR
Program fee includes: full tuition, participation on various online social activities.
Accommodation
As this is an online program, we do not provide our participants with accommodation.
Brochures and videos
Watch this film to see how HAPPY people are in Pécs:
https://www.youtube.com/watch?v=WKQgRijyB9k
Video about "The Cultural Heritage of Hungary" Summer School from 2019:
https://www.youtube.com/watch?v=rbOa0vgBFhc
Film about the very diverse and fabulous international student community of the University of Pécs showcasting themselves at the International Evening in 2017:
https://www.youtube.com/watch?v=1P98wJMkRhY
And in 2019:
https://www.youtube.com/watch?v=8sY76T-cdVs
More films about the city and the univesity:
http://pte.hu/english/image_videos
Contact Us
Should you have any further questions please contact our colleague:
summerschoolpecs@pte.hu
To visit the Office:
​The Summer School Office is located at 4 Vasvári Pál street, Rector's Cabinet, International Centre, office No 127-128.
Opening Hours:
Monday - Friday: 10.00am - 15:00pm
Telephone Enquiries:
Tel: +36-72-501-500/12418
Postal Address:
Rector's Cabinet, International Centre
University of Pécs,Vasvári Pál u. 4.
7622 Pécs, Hungary