EUtopia 2021-27? Visions and Missions of Europe - ONLINE summer program
Study program
Social program
Fees and Payment
Accommodation
How to Apply
Brochures and videos
Contact Us
Apply Now
Organizing unit
University of Pécs, International Centre
Application deadline
June 07
Target group
Undergraduate, graduate and PhD students
Language of instruction
English
Course Location
ONLINE (Microsoft Teams)
Our intensive but enjoyable 10-day long online summer school will concentrate on discussing the different views of the place and role of the European Union both from internal and external perspectives. Stemming from its past and 60+-year-long history, lectures and debates will focus on analyzing the forthcoming period of the financial framework 2021-27 with a particular emphasis on the global pandemic and the post-COVID-19 era, together with how the EU can recover itself from political and economic points of view. The Central and Eastern European approaches to all these questions will obviously be highlighted in detail.

The preliminary program of the course: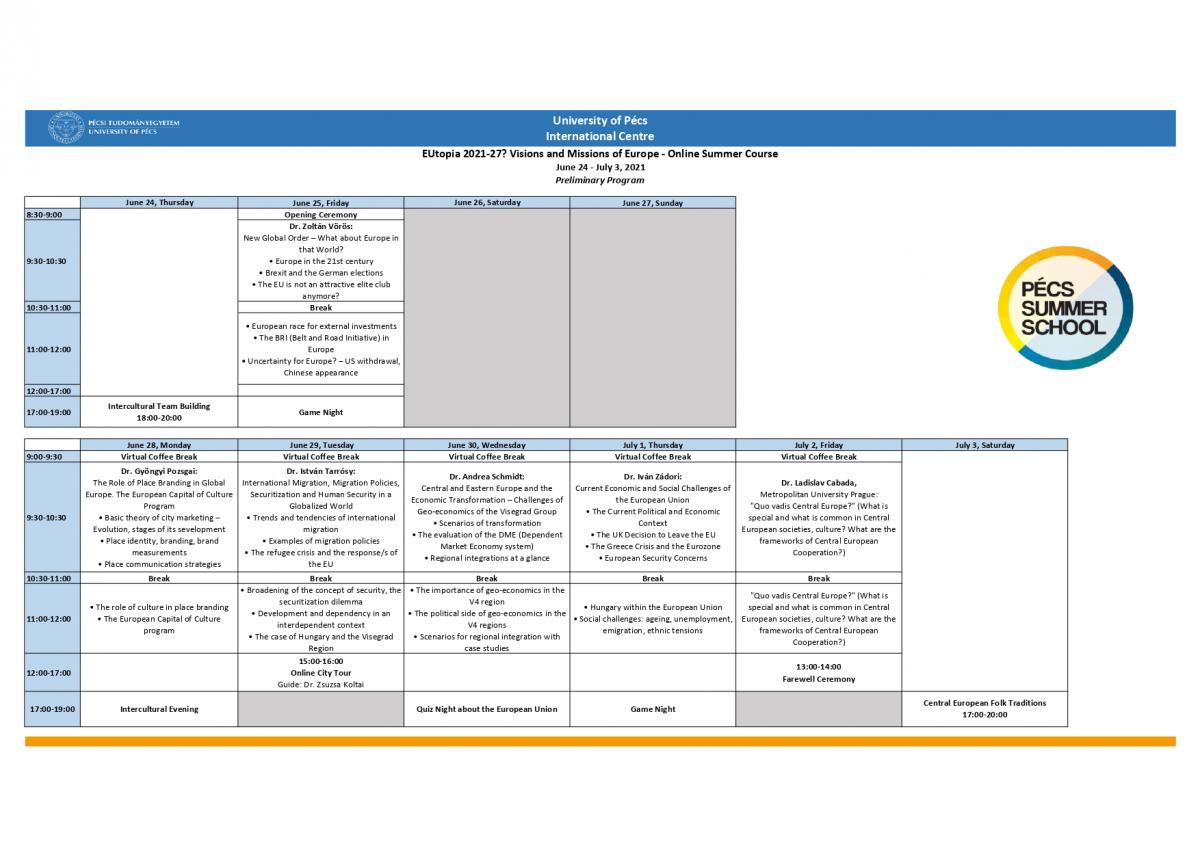 Here is what our students said:
 

 

 

"This was a unique opportunity to immerse myself into a new

culture, meet awesome people and explore new places.

The Summer School in Pécs will definitely make your

summer more colorful and unforgettable."

 

Daryna Sakharova, Ukraine, 2019

 

"During the summer school we opened a lot of interesting

and important questions which were center of conversations

also in our free time. It was great to spend summer with

a group of young people from different European countries

and make new friendships."

 

Julija Ovsec, Slovenia, 2019

 

"At first I was skeptical about the online summer school but as time went on
I realized thateverything was organized pretty good
and the people were very approachable.
I think this summer school was a wonderful end to
my summer and I would recommend everyone to participate."

Martina Kovacic, Croatia, 2020

 

"My time at Pécs is unforgettable not only by getting valuable lectures but
the social experience, knowledge and interaction with other cultures, is beyond everything. Love Pécs."

Zahid Muhammad, Pakistan, 2020
| | |
| --- | --- |
| | |
Fees and Payment
The application deadline for this program has passed.
Program fee: 300 EUR
Program fee includes: full tuition, participation in various online social activities
Application deadline: June 7, 2021
Accommodation
As this will be an online course, we do not provide our participants with accommodation.
How to Apply
The application deadline for this program has passed.
Questions? Contact us at summerschoolpecs@pte.hu
Brochures and videos
Watch this film to see how HAPPY people are in Pécs:
https://www.youtube.com/watch?v=WKQgRijyB9k
Film about the very diverse and fabulous international student community of the University of Pécs showcasting themselves at the International Evening in 2017:
https://www.youtube.com/watch?v=1P98wJMkRhY
And in 2019:
https://www.youtube.com/watch?v=8sY76T-cdVs
Contact Us
Should you have any further questions please contact our colleagues at summerschoolpecs@pte.hu
To visit the Office:
The Summer School Office is located at 4 Vasvári Pál street, Rector's Cabinet, International Centre, office No 127-128.
Opening Hours:
Monday - Friday: 10.00am - 15:00pm
Telephone Enquiries:
Tel: +36-72-501-500/12418
Postal Address:
Rector's Cabinet, International Centre
University of Pécs,Vasvári Pál u. 4.
7622 Pécs, Hungary