Designing Personal Career Launch Strategy
Study program
Social program
Fees and Payment
Accommodation
How to Apply
Brochures and videos
Contact Us
Apply Now
Date
February 25

-

February 26
Organizing unit
University of Pécs, International Centre
Application deadline
February 08
Course fee
20000 HUF (Univ of Pécs stud)/75 EUR (non-Univ of Pécs stud)
Target group
Undergraduate, graduate and PhD students
Language of instruction
English
Course Location
ONLINE - Microsoft Teams
The 2-day-long training is designed to help students acquire the skills, knowledge and self-assurance they need to secure their ideal role. Students get practical advice on how to navigate their employability and job readiness, and build confidence as they finish their education and transition to work.
Preliminary program:
The program will be held according to CET time.
Thursday, February 25: 
Setting Personal Career Pathway

09:00 - 13:00 joint sessions
(10:30 - 11:00 short break)
18:00 deadline for individual assignments submission

Friday, February 26:
Presentation & Action

09:00 - 11:00 individual feedback sessions
11:00 - 15:30 joint sessions
(12:30 - 14:00 lunch break)
18:00 deadline for individual assignment submission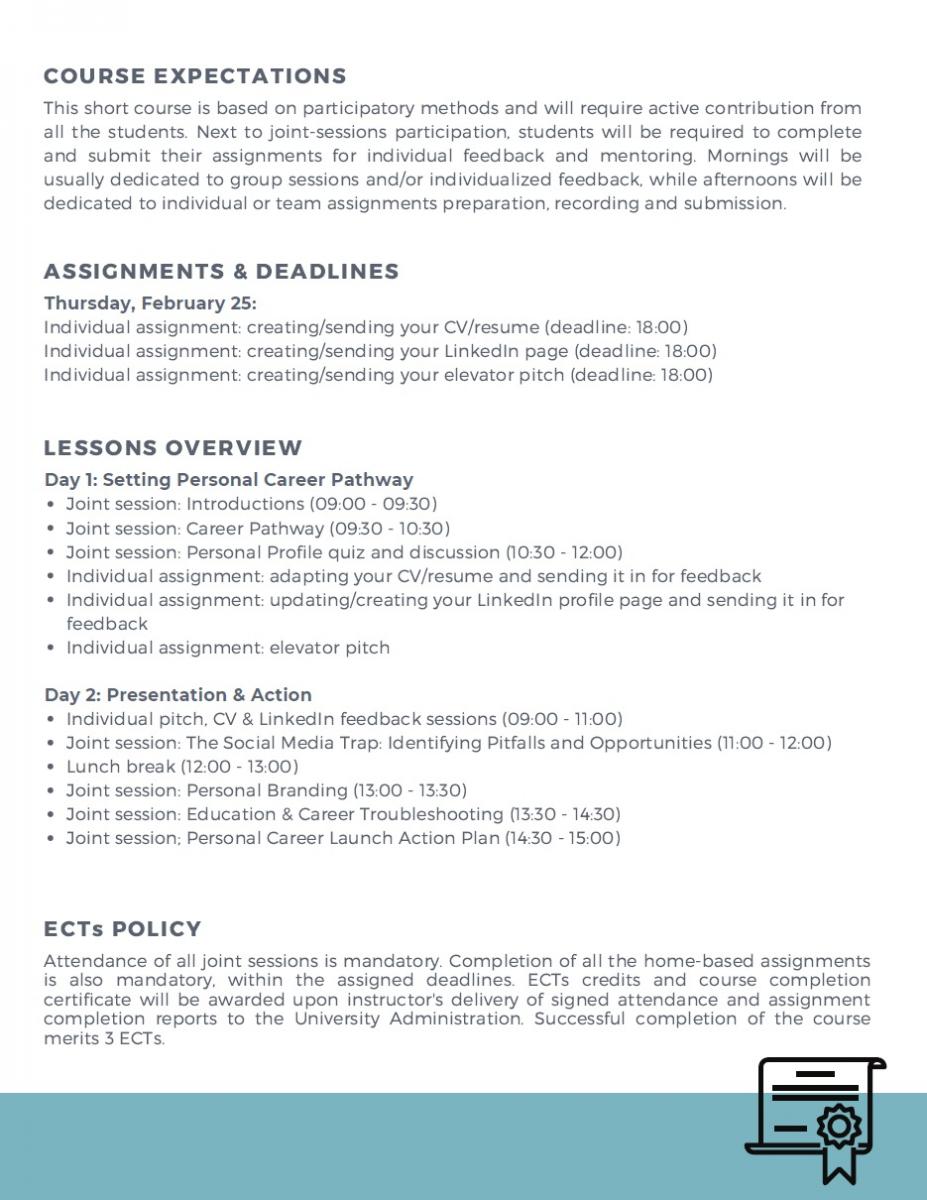 The Trainers:
Dr. Maja Nenadović
Tvrtko Noa Pater

Dr. Maja Nenadović is an experienced global trainer, debate coach, consultant, researcher with 18 years of experience who has worked in 40+ countries worldwide.
She regularly implements trainings, seminars and workshops in civic education, human rights education, critical pedagogy, peace education and also works as facilitator and moderator of conferences, expert meetings, and of organizational strategy and transition management.
Since 2012, she has developed and implemented Applied Debate - Training Workshops for Depolarizing Communication in more than 20 countries worldwide. In the past several years, she has also worked as a program design and global philanthropy consultant for various private foundations in the domains of peace education, peacebuilding and (youth) civic engagement.
Maja holds a PhD from the University of Amsterdam, on the subject of Monitoring & Evaluation in the area of democracy promotion and democratization projects. She is the Secretary General of the Board of the International Association for Intercultural Education (IAIE).
She has working knowledge and ability in English, Croatian, Dutch, Spanish and Hungarian languages.

Tvrtko Noa Pater is a trainer and educator who works in the fields of Holocaust education, rhetoric and facing history. With over 15 years of experience, Tvrtko as an advocate of free speech and self-reliance believes that teaching students how to stand up for their rights and beliefs while at the same time having understanding for the views of others is of paramount importance. It is his personal mission to foster understanding for views different than our own, and to build bridges and empathy for opinions and perspectives across ideology, religion, political spectrum.
Tvrtko has a background in law and works as Head Legal Trainer in the Model International Criminal Court Western Balkans (MICC WeB) project. He is also a peer guide trainer for the "Anne Frank - A History for Today" traveling exhibition, as well as a debate coach and adjudicator in the British Parliamentary debate format. He is also a lead trainer and facilitator affiliated with the Croatian Education and Development Network for the Evolution of Communication – HERMES.
Fees and Payment
Program fee for University of Pécs students: 20 000 HUF
Program fee for non-University of Pécs students: 75 EUR
Payment information is coming soon!
Accommodation
Due to this is an online course, we do not provide participants with accommodation.
How to Apply
University of Pécs students can apply through the Neptun system. 
Non-University of Pécs students should apply by filling this form: APPLICATION FORM
If you have questions, please contact us at toth.szabina@pte.hu 
Brochures and videos
Watch this film to see how HAPPY people are in Pécs:
https://www.youtube.com/watch?v=WKQgRijyB9k 
Film about the very diverse and fabulous international student community of the University of Pécs showcasting themselves at the International Evening in 2017:
https://www.youtube.com/watch?v=1P98wJMkRhY
And in 2019:
https://www.youtube.com/watch?v=8sY76T-cdVs
More films about the city and the univesity:
http://pte.hu/english/image_videos 
Contact Us
Should you have any further questions please contact our colleague:
summerschoolpecs@pte.hu
To visit the Office:
​The Summer School Office is located at 4 Vasvári Pál street, Rector's Cabinet, International Centre, office No 127-128.
Opening Hours:
Monday - Friday: 10.00am - 15:00pm
Telephone Enquiries:
Tel: +36-72-501-500/12418
Postal Address:
Rector's Cabinet, International Centre
University of Pécs,Vasvári Pál u. 4.
7622 Pécs, Hungary
Apply Now
University of Pécs students can apply through the Neptun system. 
Non-University of Pécs students should apply by filling this form: APPLICATION FORM
If you have questions, please contact us at toth.szabina@pte.hu